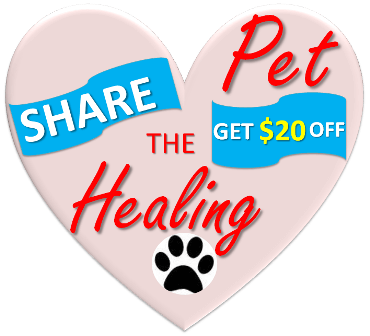 As our animal clinic continues its growth we realize that most of our new clients come because they have been referred by our existing customers. The greatest praise for our animal clinic and veterinarians is when you tell your friends, family, and colleagues about us.
We are thrilled that you are willing to spread good word and share your experience with others, and to express our appreciation of your confidence we are happily providing discounts for client referrals.
With our new Share the Pet Healing Client Referral Reward program, for every new client that visits our practice for any veterinary service (whom you referred) you will get $20 Off your pet's treatment during next visit to our animal clinic.
Thank you for continued friendship. If any questions please give us a call: (954) 884 8949 or (954) 722 2100.
IMPORTANT NOTE:
*Please note a Referred Client MUST inform our reception he has been referred prior to his FIRST check-in/visit and provide a name of the person he has been referred by.
**This offer is only applicable to a animal TREATMENT at our animal clinic, and NOT redeemable for cash, food or medications.
***Our clinic offers and discounts can NOT be accumulated with any other ongoing promotions and discounts.
****Each offer is redeemable individually only.
*****Additional Terms and Conditions Apply.
TO STAY UP-TO-DATE FOLLOW US ON SOCIAL MEDIA