Share Your Story!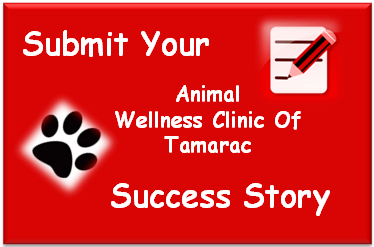 Even if it seems there's no hope sometimes medical ability, will and belief make it possible for cats and dogs suffering from medical conditions to regain their health and return to loving family. We want you to share your Animal Wellness Clinic of Tamarac Success Story to give hope, and inspire other pet owners for medical triumph of their furry family members.
---

"I always had this idea that you should never give up a happy middle in the hopes of a happy ending, because there is no such thing as a happy ending. Do you know what I mean? There is so much to lose." -John Green, Let It Snow
Johanna met Sofie when she came to the pet shop looking for food for her dog Matza. A man was giving back Sofie to the breeder, but the breeder didn't want to accept Sofie either. Johanna felt pity for a one month old cute Yorkshire and adopted the puppy right away. Poor dog Sofie had bad health and liver disease. Every veterinarian in Broward and Miami-Dade that Johanna took Sofie to gave bad prognosis and said her dog wouldn't live longer than a month.
---

"I don't believe that old cliche that good things come to those who wait. I think good things
come to those who want something so bad they can't sit still" – Ashton Kutcher
First time Joan met Pepsi at West Palm Beach rescue. Then he was a few weeks old fun loving kitten. At that time Joan didn't suspect there will be 10 months of bronchopneumania with poor prognosis.
---
"Yes, something invulnerable, unburiable is within me, something that breaks rocks: it is
called my will" - Friedrich Nietzsche
Charlie, severely abused dog was literally a bag of bones and nearly dead when he was found by Florida's Miami Dade
Animal Services a few months ago. Six months old dog was brought to us in a horrendous and vulnerable state. Charlie was a walking skeleton, and it was a miracle he was still living.
---
"Miracles happen every day. Not just in remote country villages
or at holy sites halfway across the globe, but here,
in our lives." - Deepak Chopra
After Olivia was rescued by an animal shelter, she was brought to a local veterinarian hospital to be euthanized. However, she was picked up by a rescue group and taken to Animal Wellness Clinic of Tamarac. The prognosis was poor. She had incurable kidney failure and degenerative bone disease.